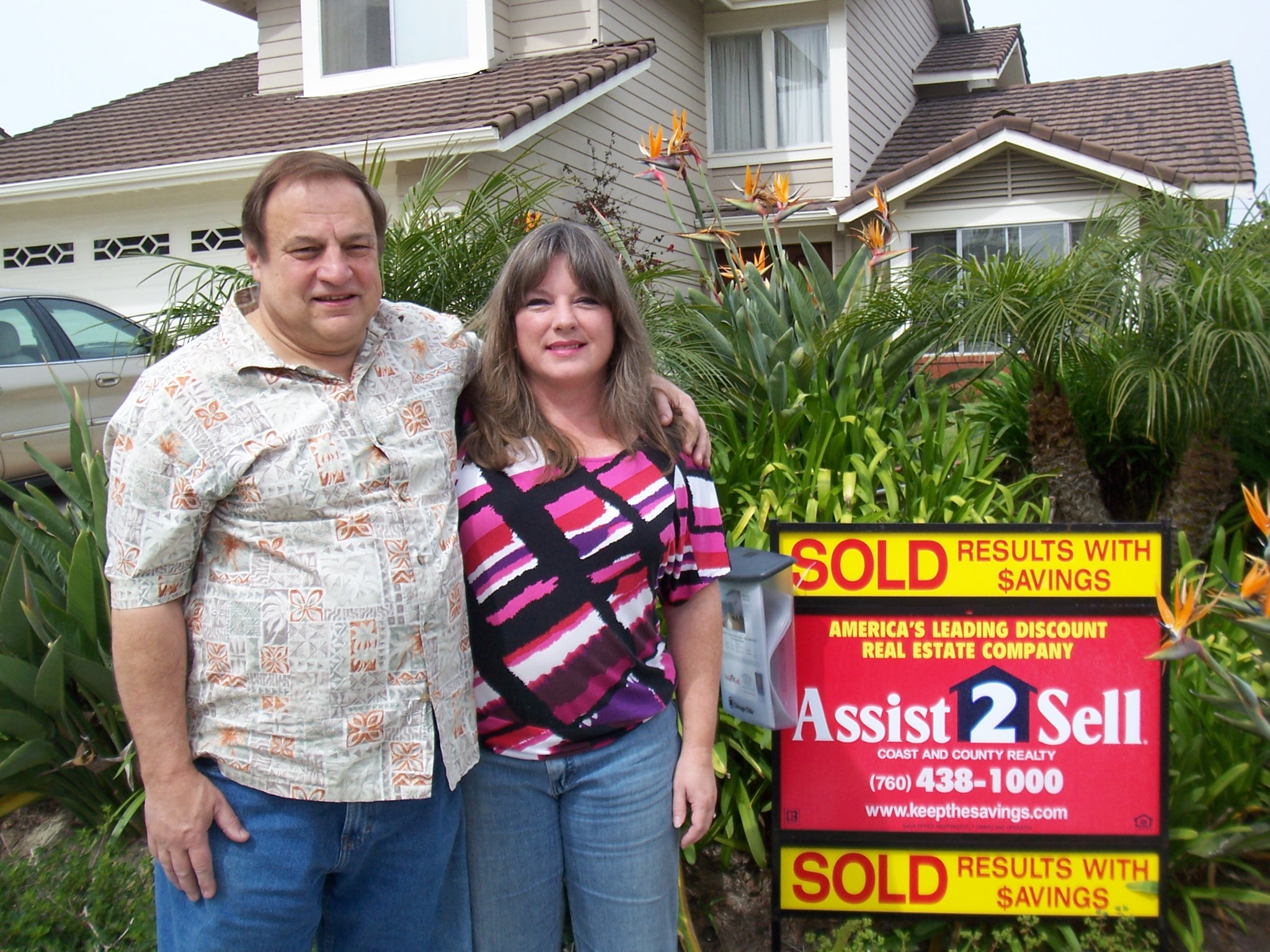 We're very pleased with the performance of Joanne Leigh with Assist2Sell; she is a down to earth woman who is willing to roll-up her sleeves to do what she can to get you the best price in selling your home. Within the first two weeks of listing our home we had two open houses, a broker's caravan, and an offer on the table. In today's tough real estate market Joanne is willing to do the necessary work to ensure the house has the exposure needed to sell.
Additionally, prior to listing our home, Joanne gave us very useful advice on de-cluttering our home and having cohesive furniture. My furniture was an eclectic mixture of traditional and modern – she suggest changing out a few pieces to make the space more homogeneous, which improved to flow from room to room and gave the home a more comfortable feel. People coming into the home could see themselves living there.
To facilitate the number of showings we had Joanne include our phone number on the MLS; this combination of Joanne having multiple open houses, broker's caravan, and us fielding any missed calls worked out great! We would highly recommend Joanne with Assist2Sell.
Dale
My wife and I needed to sell our home in Shadowridge in Vista and at the time the market was a little soft, not dead just soft. We interviewed three local realtors and one from San Diego. It was very obvious we needed someone local and after considering those three we chose Joanne. In all things financial there is more at stake in choosing the correct person and since selling a house is a pretty big deal you want to make the correct decision. Joanne is that correct decision.
When we first spoke with her she came in with a price recommendation that she was convinced she could get. One realtor had suggested a higher price but the other two were thinking way lower, $30,000 lower. Joanne convinced us she was right about the price and sure enough that is pretty much what we got. In a buyers market she got our house sold in about 30 days. I think the reason it happened so quickly was it was priced exactly right.
During the process Joanne kept us very informed, if the house was shown she gave us feedback from every one of them. When we got into escrow she held our hand the whole way. The escrow office she recommended was excellent and when we needed to make some termite repairs she came through with a great referral for that too.
We got all the great service that realtors that charge a full commission say can't be done unless you pay for it. Well Joanne did it all and we saved just under $8,000.00 from the so called "Full Service" real estate offices.
We highly recommend Joanne, you will not be disappointed with her working for you.
Laird and Cathi C (testimonials all available to view)
Laird and Cathi C
"Joanne Leigh is a true professional in every sense of the word.  Joanne did what most other agents talk about but rarely do, and that is "bring" a buyer to our property.   We listed in 2014 with multiple agents and did not sell.  Lots of showings, but no takers.  We listed with Joanne in the fall of 2014 where she impressed us with her professionalism and also staging tips and great pictures to make the home show better. The 1.25% commission rate didn't hurt either!
It worked and we had an offer the first week, but unfortunately the buyer didn't perform so we fell out and the market cooled.  So we gave up and waited till Spring 2015 with the intent to relist with Joanne when the market was better.  Like a true professional,  Joanne kept her ears to the ground and happened to network with an agent who had a buyer who was looking for a property like ours in early 2015.  She reached out to the agent and told them about our property.  After generating the interest, she called me up when we were off market and were not even thinking about listing, and convinced us to let the buyer see the home.
The next day,  they called up wanting to make an offer.  Joanne negotiated a top dollar offer and just like that..we're in escrow, skipped having to list it.   Joanne is very communicative and supportive through the process of escrow as well.  Joanne really did everything and a more a full 3% agent would do for you…that's the difference between an experienced BROKER like Joanne and a normal real estate agent.
The marketing slogan is real folks,  KEEP THE SAVINGS!  Put another way, when you don't interview Joanne, you hire a less experienced agent and needlessly pay 3% commission.  When you needlessly pay 3% commission you are throwing money away.  When you throw money away it lands on your neighbor's windshield.  When it rains your neighbor smears his windshield with your freshly thrown money and can't see.  When your neighbor can't see he crashes his car. When he crashes is his car he blames you.  When he blames you, you feel terrible, and you feel like "that guy..".
Don't be "that guy", hire Joanne Leigh!
Mark Walser
The name Assist2Sell implies they "Help" you sell your home yourself. Not at all the case. Joanne did everything and more than a full service agent charging 2 1/2 – 3% but only charged us 1 1/2%. Joanne was stellar and so delightful to work with. She is worth paying a 2 1/2 – 3%! Joanne held open houses, created all the marketing material and guided us all the way through the completion of the sale. She may be a discount on fee but definitely not on service. I would highly recommend her.
David Carchidi
I think I might have given up on the sale of my home if it was not for Joanne and Assist-2-Sell. The Buyers' real estate agent kept asking for documents on an piece-meal ASAP basis, the Buyers chose to refinance with a completely different bank a two weeks before the closing – it felt like one big stressing demand after another. Joanne was the only one keeping me in the loop and at times did more than she needed to do. This was on top of doing a wonderful job at staging my home, pricing it at a very competitive price point, doing more open houses than I would expect and just being one of best real estate agents I have had the pleasure to work with.
And I would know, seeing as between my parents and I, I have gone through the process of selling a home or buying one 6 times now. If I had to do it again, I would go with Joanne in a heartbeat !!! I plan on using her for any future home purchases or sales and recommend her to anyone I know. You can't go wrong with Joanne and Assist-2-Sell. I not only ended up selling my home faster than I anticipated but I saved over $14,000 in commission fees and feel like I made a friend for life.
Sincerely,
Judy Z.
Joanne Leigh, the brokerage owner of Assist-2-Sell Coast and County Realty in Carlsbad, provided an exceptional real estate service to me in selling my home in Vista Pacifica. Her flyer, pictures and the MLS write up were great and she never once failed to react quickly to any potential buyers or their agents, asking for feedback on the property. In less than 2 weeks we had an offer on the home. Joanne negotiated a great price and attended all the follow up visits including termite and home inspections and appraisal. Joanne not only saved me over $12,000 in commission fees, she went beyond the call of duty many times delivering to me various paperwork needing signatures. I highly recommend her services without hesitation.
Name withheld
Dear Joanne,
I wanted to write you a letter to express my gratitude for your outstanding service.
I am so grateful for the sensitivity and professionalism you freely showed me during this challenging endeavor. I appreciate that you kept me informed of the status of the sale. I feel you went above and beyond the call of duty. Your phone calls were very helpful.
I would be more than happy to refer you to my friends and family, you are top notch, and did a great job.
Thank-you so much Joanne and God Bless You!
Sincerely,
Coleen (Full name withheld)
Dear Joanne,
We wanted to personally write you to say "Thank you from the bottom of our hearts" for helping us sell our home in Oceanside despite all the negative news about selling a home in a down market. I believe we did well! and it's all thanks to you.
Not only did we save money in agent fees, but you also saved us money in prepping the house for the showings, you personally used your professional photographic skills to take the photos, and they came out great, and we didn't pay a dime for it! We basically got full service, and less hassle for less agent fees. When we did find a buyer, you were very pro-active in letting us know what the next step is. The house inspection repairs, that are another one, you saved us a ton of money by bringing in your professionals who you've worked with to help us do the repairs for less than half the quotes we were getting. We really can't thank you enough for your calm nature and just putting us at ease throughout the whole process. You were there all the way!
It turned out to be so smooth; we even closed on the day of escrow, not a day a late!!!!!
Our kids now have a great appreciation for Realtors because of you. My son is closer to school and his friend. Our daughter is happier too! We want to own a home again, definitely will be calling you for our next purchase, You have earned our trust for sure!
Thank you so much once again for everything. We wish you great success!
Best wishes,
Ayo and Philippa
Blue Orchid, Aviara, 92011 sold for $730,000 Sellers saved $17,555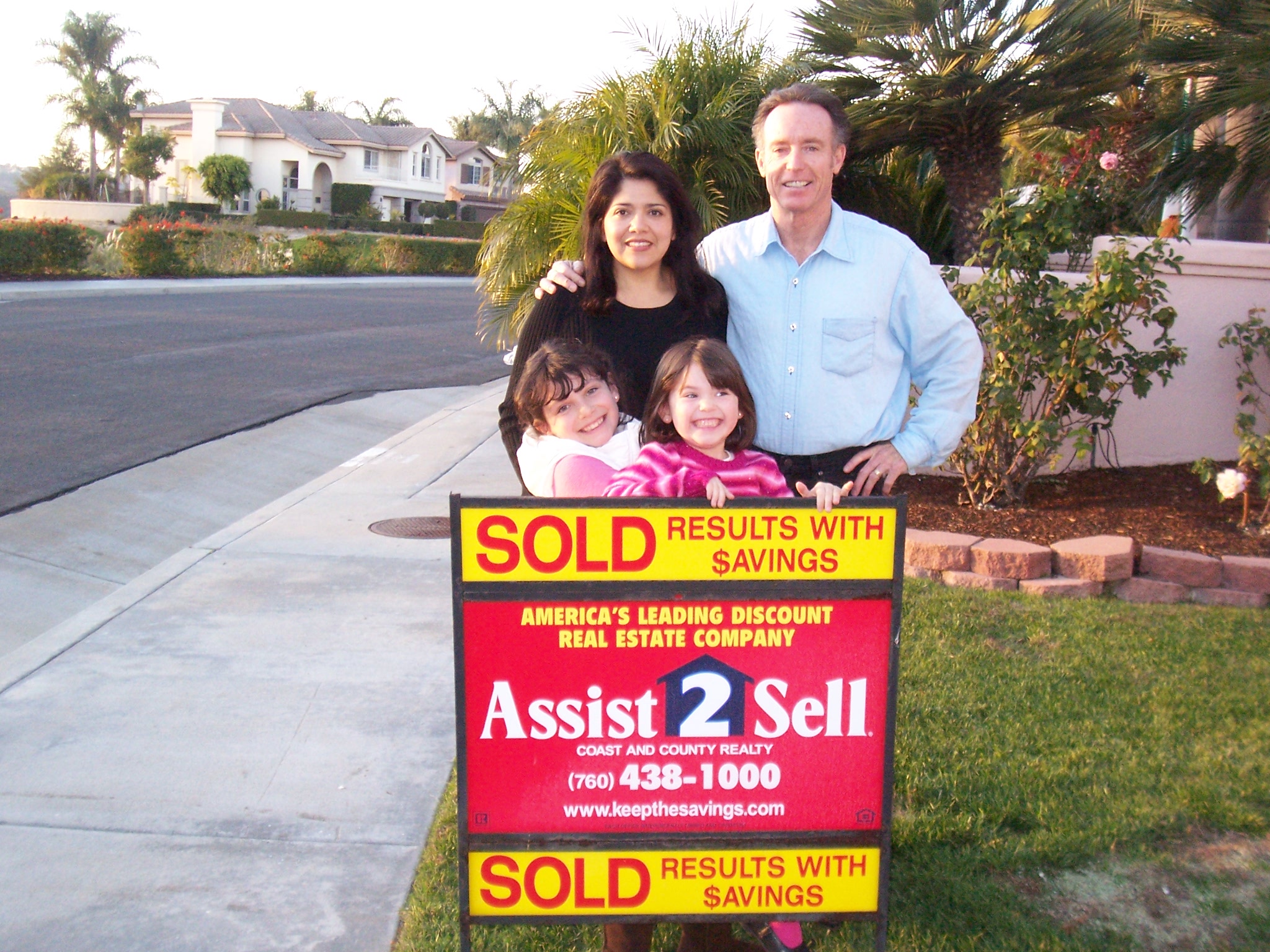 Dear Joanne,
Norma and I wanted to contact you and from the bottom of our hearts thank you and your husband Ron for selling our home.
It was a long meandering journey but our admiration for you and Ron only grew through the process. Other firms tried very hard to convince us that we deserved a full commission real estate firm. I can only think they do not know what kind of service Assist 2 Sell provides. Norma and I have been through this selling process a few times and this was the first time that an agent made sure they were on hand for every inspection including, home inspection, termite, appraisal, follow ups and meetings with other agents when we had an offer to coordinate all the relevant points. You were always professional, courteous and friendly as was your husband Ron. That is the kind of commitment you have brought to Assist-2-Sell. I will measure others by the level of service Asssist-2-Sell provided in the process of selling our home in a very tough sales market. Assist-2-Sell provided us with a full service real estate experience and we saved over $17,000 in the process. Thank you Joanne and Ron.
Sincerely Yours,
Michael and Norma Finnerty
White Birch, Vista, 92081 sold for $530,000 Sellers saved $13,920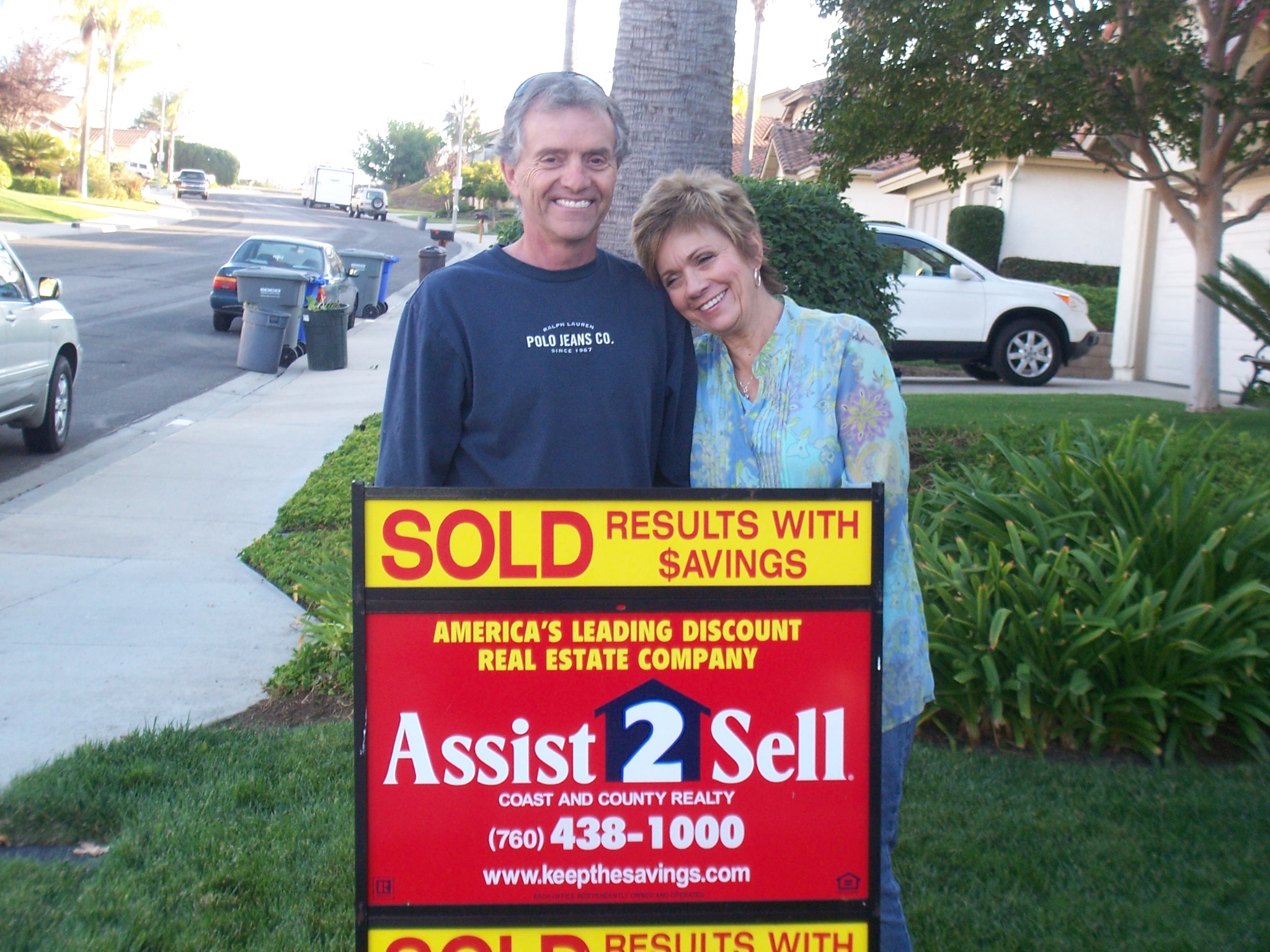 Hi Joanne,
I just wanted to say a belated "Thank You" for working as hard as you did to get our home sold this month. With the resale market being so hard to read lately, you were able to figure out about where we needed to be with our pricing and how best to showcase our home. The pictures you did for the MLS listing turned out great and really drove a lot of traffic to us resulting in one showing after another. And with all those people looking we found that buyer that seemed to love the house and neighborhood just as we have for the past 21 years.
Thank you too for getting us through the escrow period so smoothly. Your referral for a termite service was great and Ann Hurd handling the escrow couldn't have been better. Between you and those folks the process was really pretty painless and did I mention cost effective? Despite your low fee for listing our house the service never once felt like a low cost service. In fact I can't imagine one thing those other realtor's do that you yourself didn't do which begs the question….why do they charge so much? Cathy and I were just glad we had you as an option and that you were kind enough to take us on as clients.
Once again, thank you for your help and getting us moving onto the next stage of our lives.
Laird and Catherine Cameron
Plumeria, Bressy Ranch, 92009 sold for $610K Sellers saved $17,487
Hi Joanne,
I was looking for a realtor who would aggressively market and sell our home in Bressi Ranch for a discounted fee. I didn't have to go far to find Joanne. On numerous occasions I saw her open house signs in a nearby community blanketing my route home after my morning round of golf. I'm a 17 year self employed commission based salesperson and know that marketing is the key to sales. Joanne held several open houses (as I had expected) and before I knew it our home was sold. She is very accessible and responsible. She helped ease the stress of all the elements involved in preparing and selling a home.
From one salesperson to another, job well done!
Paul Royko
Sandcastle, Harbor Pointe, 92011 sold for $657K Sellers saved $17,000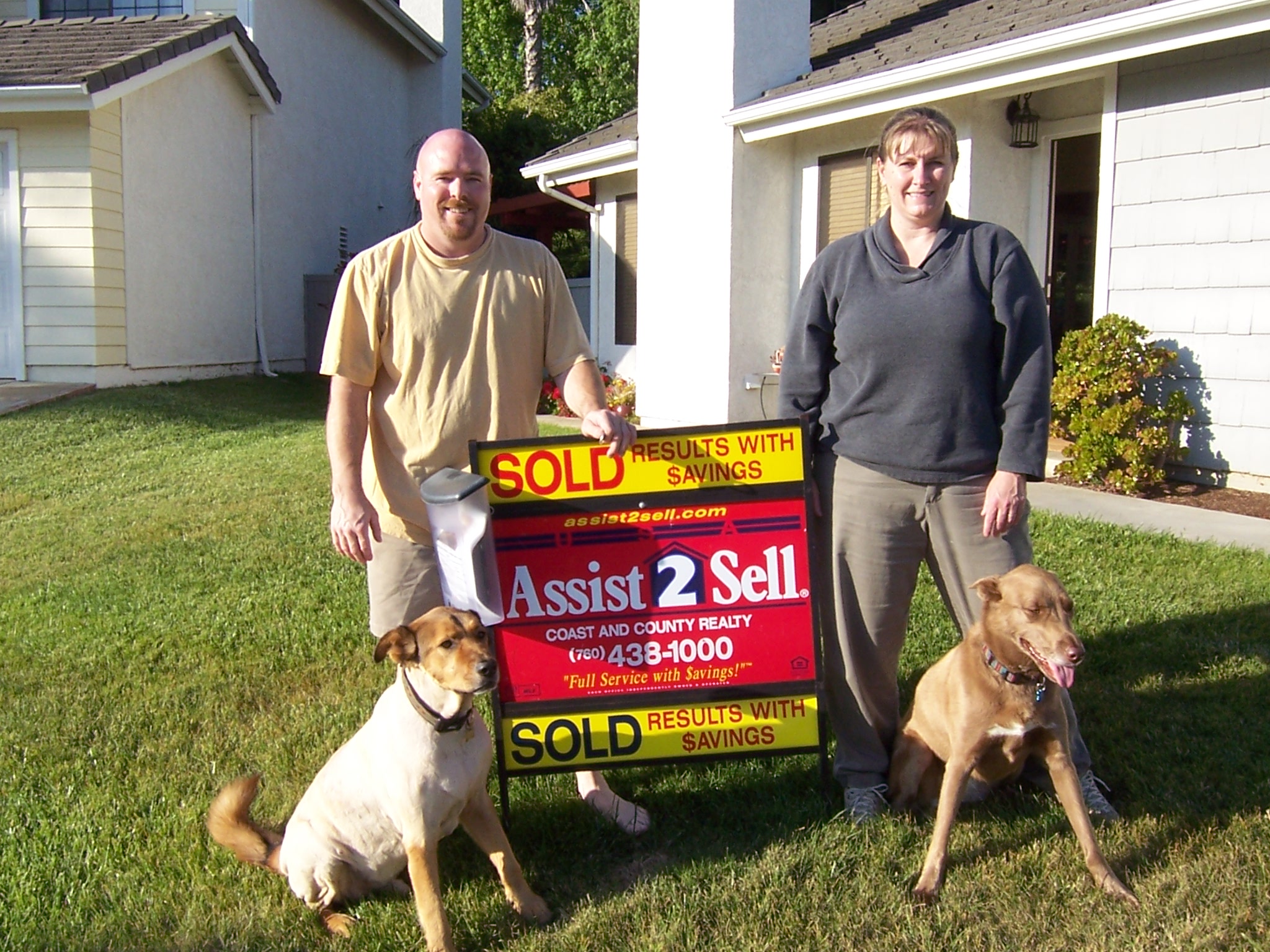 In the past 10 years we have purchased and sold 7 homes and have never used the same Realtor twice. Our expectations of a Realtor are very high and although we continue to utilize the services that a licensed agent can give us, we have never been truly impressed enough to call on the same agent a second time.
In our most recent experience, we had just fired our listing agent and were seeking his replacement. This is when we decided to call on Assist-2-Sell and were introduced to Joanne Leigh. Joanne met with us and offered up a friendly, professional conversation during our first meeting. I was most impressed with her attitude that our first meeting was not a "hard" sell of her services, but an information gathering for both parties involved. Joanne was ready to create a relationship with us not just "sell our house". We indicated to her that we were very picky and told her what our expectations would be of her as our agent. Joanne went above and beyond and had our house under contract within two weeks.
I would get into the details of why we are so hard to work with but this letter would be too long and boring to read. I would however, like to express our main concern when working with any agent (or any company that claims to provide a service to the public). Our main problem with other agents has been their lack of communication. Joanne was available to us by phone constantly. She returned all of our calls, answered our questions, informed us of her expectations and constantly kept us up to date on what she was doing with our listing. She let us know what to expect and when to expect it. She even asked us if she was meeting all of our expectations and what else she could provide for us. I have never had an agent ask if they could do MORE.
In a nutshell, Joanne Leigh will be called a second time!
Thanks a bunch,
Angie and Scott Jenkins
Pontiac Drive, Carlsbad, 92010 sold for $617K Sellers saved $14,600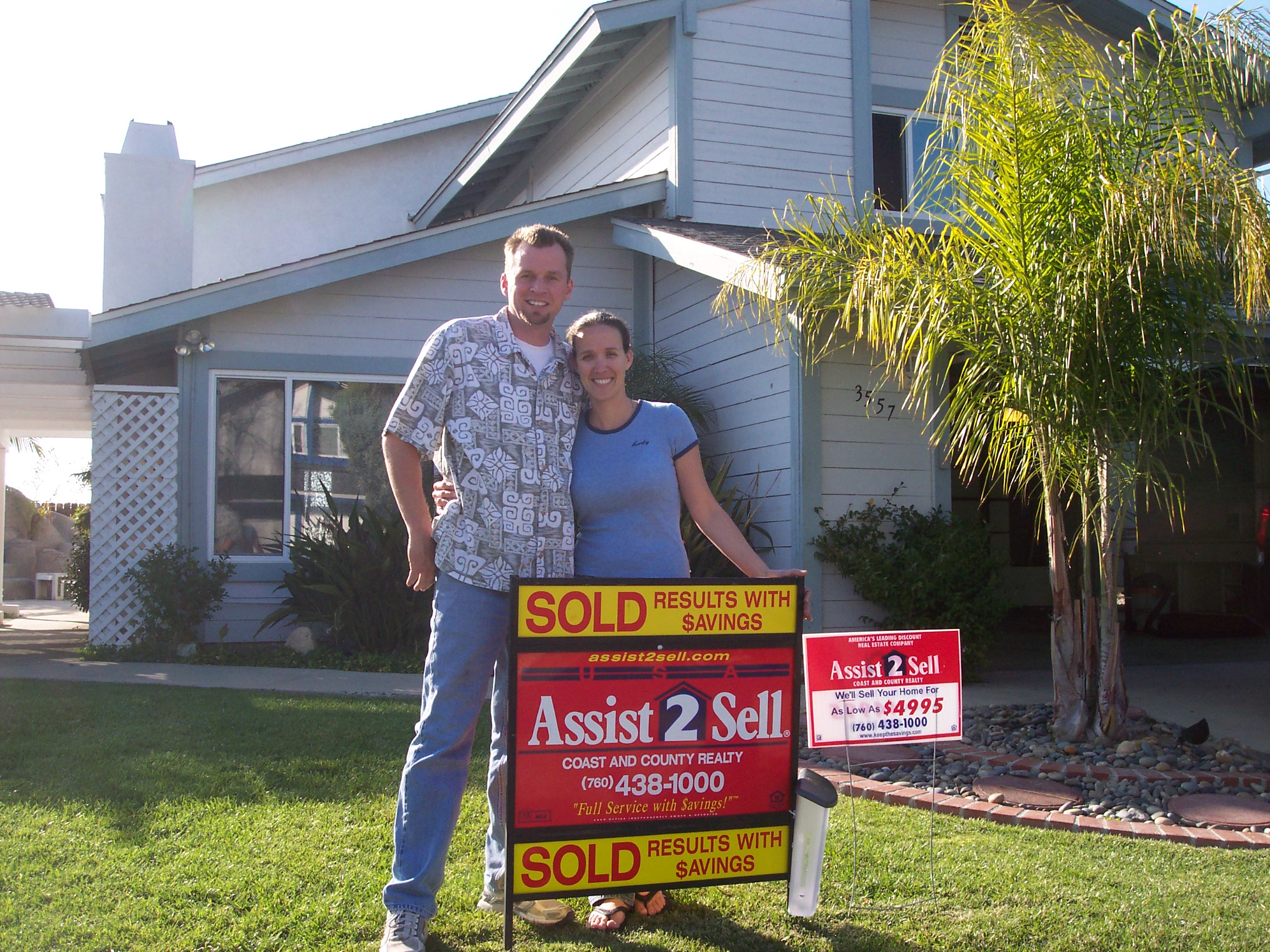 Joanne Leigh quickly put our mind at ease with her straight forward approach and obvious experience selling homes in North County. From the outset she was exceptionally professional, well organized and delivered a consistent level of high quality service. She held open houses for us ran full color advertising and coordinated with many agents who brought prospective buyers to view our home. When there were a few hiccups during escrow Joanne sorted these out quickly with some creative solutions. Her effort was worth a 6% commission but thankfully she offered full quality service while saving us over $14,000. Going with Assist-2-Sell was truly a "no-brainer".
Best wishes,
Paul and Erin
Via Puerta, Rancho Carillo, Carlsbad, 92009 sold for $390,000 client saved $8,655
To all future buyers and sellers, Joanne Leigh was my selling agent when I sold my condo in Carlsbad CA and I strongly recommend her for anyone wishing to buy or sell a residence. I was living in Virginia at the time of the sale, yet Joanne was able to efficiently and effectively complete the transaction despite the long distance. We communicated via telephone, email, fax, and overnight mail when needed. Because of Joanne's professionalism and good advice from the very start, I had a buyer involved in only 2 weeks and closed on the property in approximately 5 weeks at a price with which I was pleased.
Gene Woop, a happy client.
La Golondrina, La Costa, 92009 Sold for $620,000 Sellers saved $14,955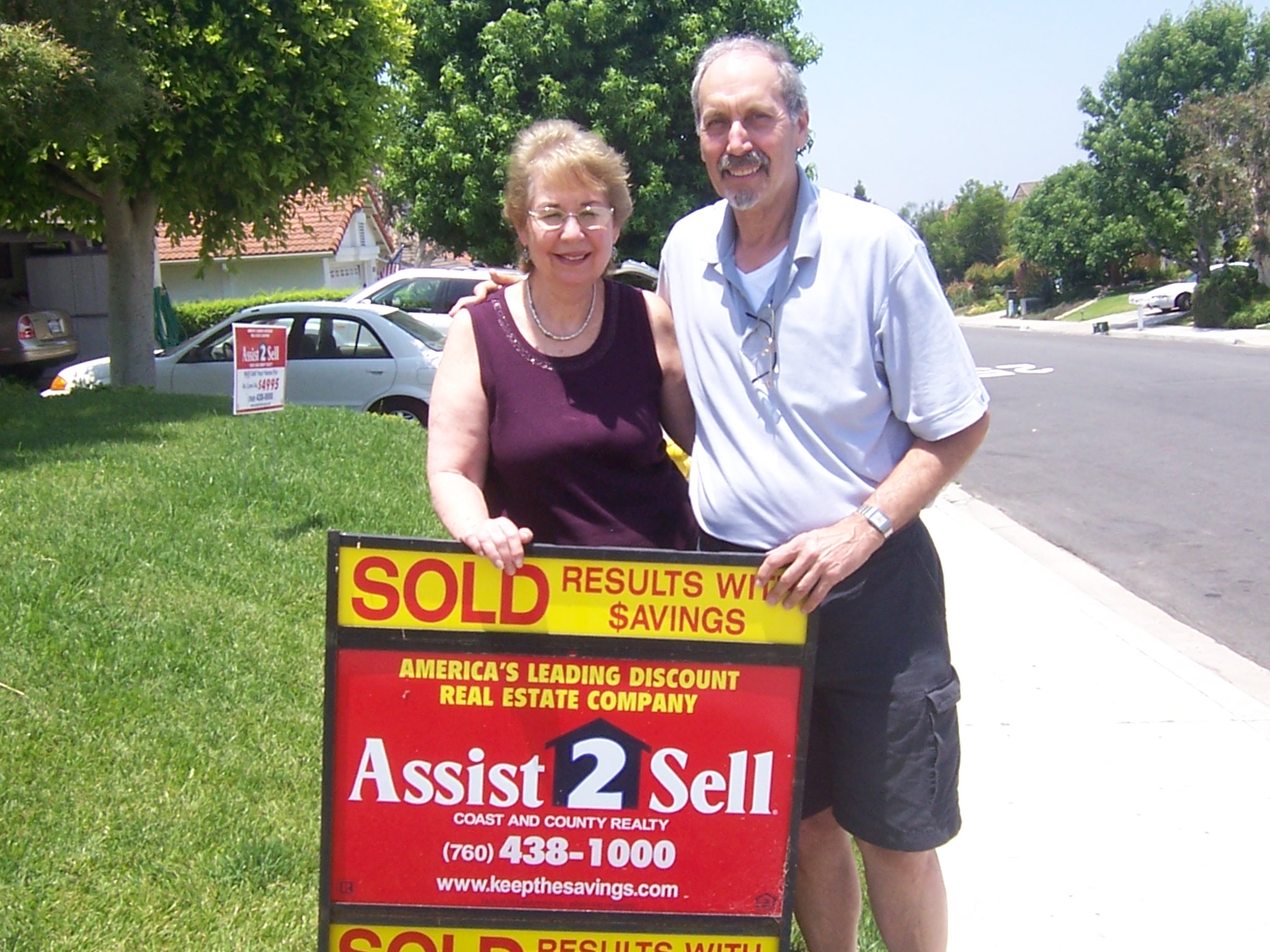 Dear Joanne,
We're finally home after a busy week of closing on our home and moving our stuff out for the new owners. Thanks to you all went smoothly and everyone is now settling in.
We appreciate your professionalism in getting over the rough spots and thank you for your ability to deal wisely and confidently so our deal could close in a timely manor even in this down market.
We recommend you to everyone we know that needs an experienced agent who knows the ropes and can create a success out of a challenging and sometimes difficult deal.
Assist-2-Sell was the right choice for us at the right price!
Again, many thanks for helping us to get our home sold.
Sincerely,
Phyllis & Mel Levin
Merlin Drive, Carlsbad, 92011 sold for $813,000 Sellers saved $38,617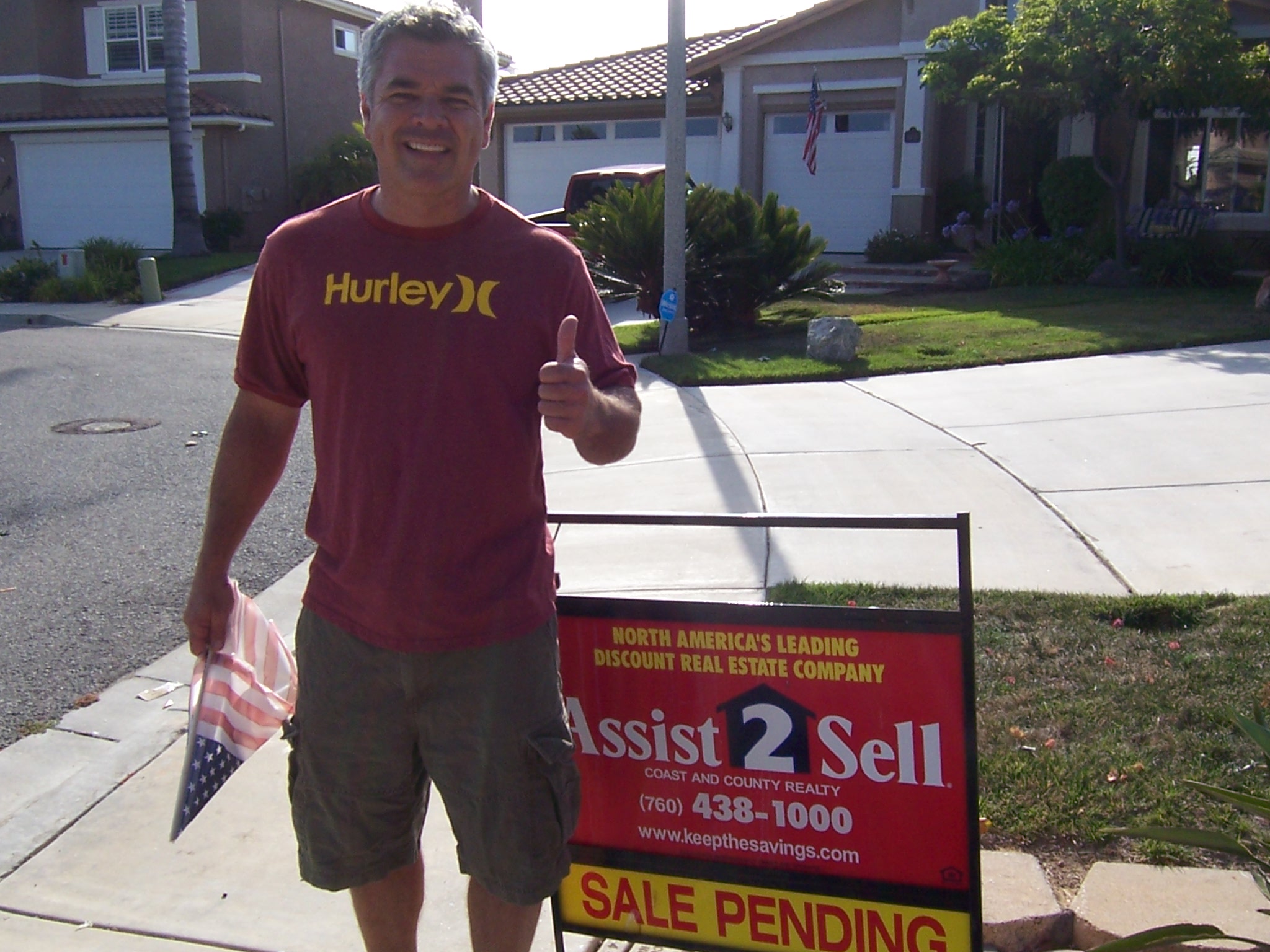 Joanne Leigh and her professional staff provided me with the highest degree of customer service throughout the sale of my home.
I expected the weakest results in this down market, however, by leveraging her years of experience, Joanne laid out an aggressive marketing plan through various media that maximized impact and culminated in the highest price that my neighborhood had seen since 2006! As a single father, my time is very limited. Joanne went way beyond the "call of duty" by always making herself available to workers and inspectors when my schedule did not allow for it, ultimately with one goal in mind – getting the home in the type of shape that would command top dollar. She used her background in design to stage my home to provide that "Wow" factor it needed when potential customers first set foot in my home.
My experience with Joanne can be summed up as follows – Joanne provided the most superior product at the most competitive price. I'd be happy to talk to anyone regarding my incredible experience"
Brett Cornell
Calle Christopher, Encinitas, 92024 Sold for $611,750 Sellers saved $13,417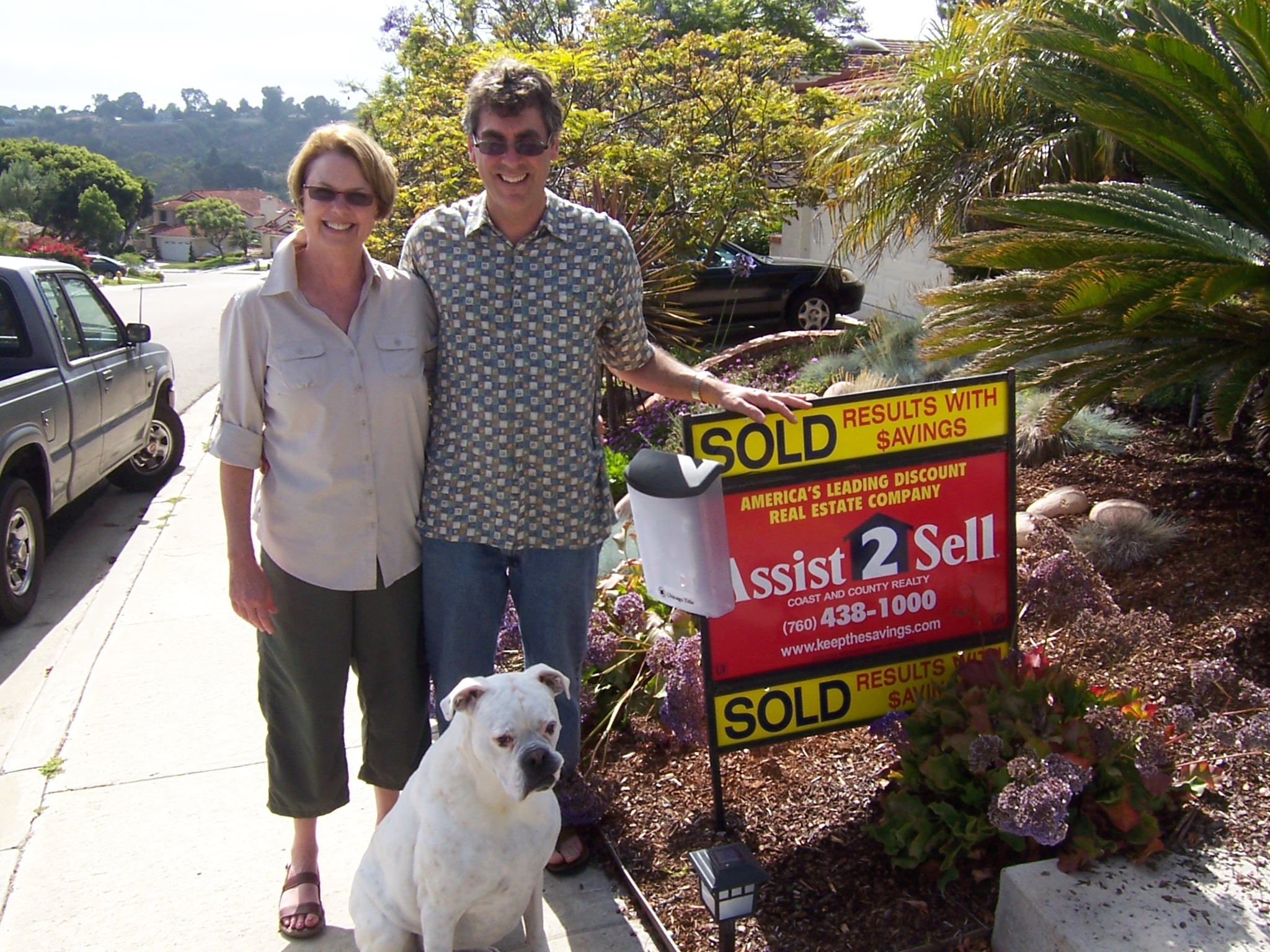 Michael, used to be a realtor with a major traditional company but he still chose Assist-2-Sell.
Hi Joanne,
We want to express our sincere thanks for a job very well done!
We both felt that you did an excellent job from the very beginning through the completion of the deal. The house was priced perfectly, landing us an offer within the first week of listing in a market where that just does not happen. We feel confident that we got a very fair price for our home in a very difficult market. You were supportive and professional throughout what turned into a very stressful transaction, keeping the process moving forward despite several obstacles in our path, and keeping us on track to see the deal close.
Thank you again for your experience, professionalism, and good sense!
Sincerely,
Michael and Diane Valmassoi
Via del Oro, Fallbrook, 92028 sold for $450,000 Sellers saved $12,375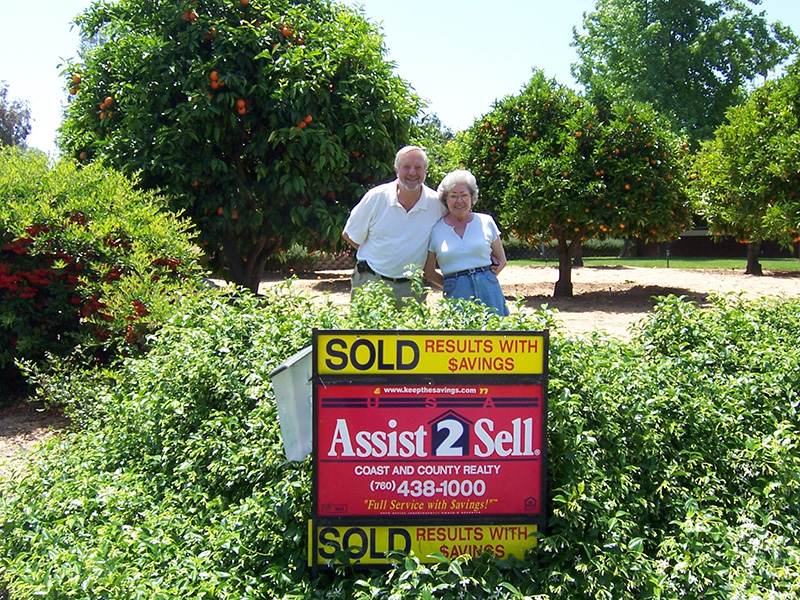 Hi Joanne,
Please accept our apologies for the delay in writing this – life has been somewhat hectic for the past week or so, also we have been without an Internet connection. Now, we are settling down and getting our act together.
We must thank you for all the work you did in selling our house in Fallbrook. It was not a favorable market and the house was definitely over built for the neighborhood creating a double difficulty. The financial market uncertainty didn't help much either.
Throughout all this you acted completely professionally and never lost site of our goals and ambitions, this sale was entirely focused on us and what we were trying to achieve, the fact we achieved it and in our desired timescale is largely due to your unstinting efforts.
Even when we had found a buyer you never stopped working on our behalf and brought the sale to a successful conclusion. This despite the road-blocks placed in our way by the lenders which took considerable efforts by all concerned to overcome. We did overcome though and I think much credit is due to you for the confidence we had in leaving the country before escrow closed, we knew you would see it through.
Joanne, we cannot thank you enough for everything you did for us, we would have no hesitation at all in recommending you to any friends or acquaintances who are seeking assistance in real estate transactions.
With our best regards,
David & June Thompson
*Fees vary on properties over $500K. Savings based on national statistics for all Assist-2-Sell offices compared to paying a 6% commission. Commission are negotiable and not set by law. Any comparisons to a percentage commission, are for illustration and comparison purposes only. The information herein is deemed to be accurate, but not guaranteed. If your home is listed with a REALTOR this is not intended as a solicitation of your listing.